All Coffee
Casabianca
Casabianca is a seasonal product and currently unavailable. If you'd like to be notified when this coffee is back in stock please submit your email address below.
"*" indicates required fields
Asian Pear
Honeydew
Cocoa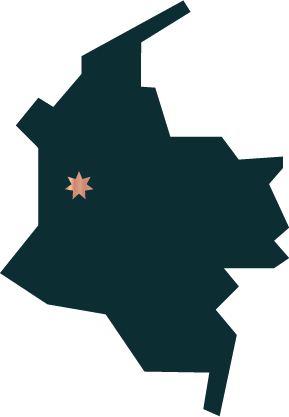 Region
Casabianca, Tolima
Producers
Caficultores Diferenciadas del Norte del Tolima
Altitude
1600 - 1700 MASL
Variety
Caturra, Colombia & Castillo
Casabianca is another great coffee brought to us through our friends at La Real Expedición Botánica (LaREB), the same Colombian collective that brought us Fabio Bados, El Crucero and others.
LaREB brings together small producers from various regions throughout Colombia. Ana Mustafá is the director of the collective, and her family have been coffee farmers in the region for nearly 80 years. She is the third generation, and now runs the coffee farms alongside her father and cousin Claudia. From a sourcing philosophy, the work of LaREB falls right in line with our goal of transparency, quality, and relationship, and we are honored to have a chance to work with these amazing people.
This particular coffee is a selection from four producers/members of Caficultores Diferenciadas del Norte del Tolima (CDNT), a collective of coffee producers in and around the towns of Palocabildo and Casabianca in the remote Northern Tolima region of Colombia. CDNT represents a new generation of producers in this region of the country, dedicated to putting this incredibly remote region on the specialty coffee map and creating a more economically viable business producing coffee. Together with LaREB, these producers work to improve both the quality and range of the coffees they produce and, through the collective, find roasters willing to pay fair prices for these high-quality coffees.
This is a washed coffee composed of Caturra, Colombia and Castillo varieties that goes through in-husk fermentation for up to 24 hours and dry-mass fermentations from 12 to 36 hours. This coffee has all of the classic attributes of a good Colombian coffee – balance, complexity, and body – but brings a whole different level of brightness and sweetness to the mix. We get notes of Asian pear and honeydew on the front end and a quintessentially Colombian body/mouthfeel as the flavors progress, ending in just the right amount of cocoa. Treat your tastebuds to this fantastic coffee, and you will not be disappointed. Cheers!