All Coffee
Crucero Reserve
Crucero Reserve is a seasonal product and currently unavailable. If you'd like to be notified when this coffee is back in stock please submit your email address below.
"*" indicates required fields
Vanilla
Pineapple
Blood Orange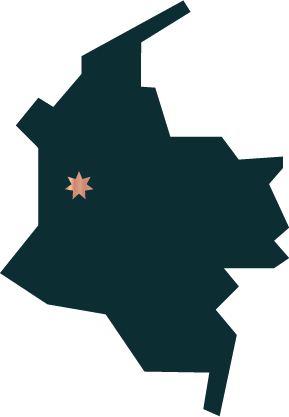 Region
Pereira, Risaralda
Altitude
1550 - 1650 MASL
We're excited to offer another harvest of this special coffee! Here's a special note from Ana Mustafá, the head producer of this lot:
"The Mustafá Farms is a project started in the first half of the 20th century. Faustina Mejía, the daughter of a local farmer, married Abdul Fattah Mustafá, a Palestinian immigrant in La Celia, Risaralda. They eventually started to produce coffee and were beneficiaries of what is known as the 1970's "Coffee Bonanza": decade in which there was a spectacular rise of the prices in the international markets. Therefore, the operation grew and was sustained by the children, specifically by James Mustafá (my father) and Mayed Mustafá (my uncle) in a technically intensive, yet organizationally outdated, production model.
I (Ana), as the third generation in charge of the operation, have been changing the production and business model in order to achieve a sustainable rural business. Specifically, we are switching to differentiated coffees, changing the agricultural practices, and improving our commercial strategies. But all of these efforts are meaningless without a platform to sell our coffees through. So, our end goal is to gain more control in the supply chain in two ways:
Deciding, from origin, what our portfolio is going to be.
Setting up a producer-owned import platform at the destination country (our collective, La Real Expedición Botánica or LaREB).
The duty of my generation in the coffee producing side is to push forward horizontal relationships with the roasters we work with, that can be equally profitable for both parties. With a true sense of collaboration. Beyond a simple purchase offering. In that sense, Mustafá Farms have built a selection of three coffees to fit the specific needs of Servant's customers:
Crucero Reserve (this coffee): a classical Colombian washed coffee with a twist on fermentation process that creates a rounder profile with ripe fruits.
Mustafá: a double-fermented washed coffee intended to express a very citric acidity and complex cup with a creamy mouthfeel.
Mustafá Decaf: This coffee comes from the need to provide a single estate, fully traceable specialty decaf that meets the same standards as good as our non-decaffeinated coffees."
Thanks, Ana…we're very proud to be a part of it. Salud!
–
Espresso: 19g in, 40-42g out @ 25 sec