All Coffee
Mustafá
Mustafá is a seasonal product and currently unavailable. If you'd like to be notified when this coffee is back in stock please submit your email address below.
"*" indicates required fields
Red Apple
Cinnamon
Hezelnut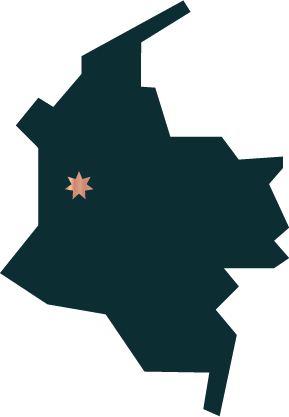 Region
Pereira, Risaralda
Producers
The Mustafá Family
Altitude
1500 - 1600 MASL
Mustafá is another great coffee brought to us through our friends at La Real Expedición Botánica (LaREB), the same Colombian collective that brought us Fabio Bados, El Crucero and others.
LaREB brings together small producers from various regions throughout Colombia. Ana Mustafá is the director of the collective, and her family have been coffee farmers in the region for nearly 80 years. She is the third generation, and now runs the coffee farms alongside her father and cousin Claudia. From a sourcing philosophy, the work of LaREB falls right in line with our goal of transparency, quality, and relationship, and we are honored to have a chance to work with these amazing people.
This coffee comes from Pereira, in the Risaralda region, and demonstrates some classic flavors we've come to love from the Colombia variety commonly grown in the area. The pallet is immediately greeted with the mild sweetness and pleasant acidity of red apples and develops some warm spice notes of cinnamon. The medium body and mouthfeel leave the drinker with a pleasant, creamy finish reminiscent of hazelnuts.
This lot was grown at an elevation of around 1550 MASL and is picked over the course of 4 days and processed through a 'double washing' system. The coffee is then slow dried, yielding a sweet, balanced cup.
–
Espresso: 19g in, 38-40g out @ 25 sec