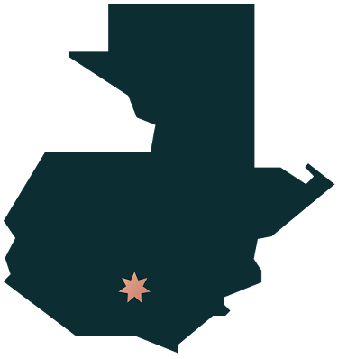 Producers
Los Volcanes Coffee
Altitude
1475 - 1600 MASL
Variety
Bourbon, Typica & Anacafé 14
Andrés Fahsen, a fifth-generation coffee producer, proudly leads the agro-forest farm of Finca Patzibir situated in the Atitlán region near Volcan Tolimán. With a deep commitment to his community and sustainable farming practices, Andrés ensures that Patzibir thrives as a place of work, conservation, and exceptional coffee production.
Patzibir, derived from the Kaqchikel Maya word meaning "Place of Tzibir (tree)," reflects the farm's connection to nature. Tzibir trees, abundant on the farm, provide shade and symbolize the balance between the lowlands and highlands of the Atitlán region. This area, where clouds and forests converge, boasts a unique microclimate characterized by high humidity – a defining feature that sets it apart in Guatemala.
The exemplary managerial techniques at Finca Patzibir are evident in various aspects of the farm's operations. Andrés and his team meticulously plan the spacing between rows of coffee plants, ensuring optimal growth conditions. In accordance with the region's climate, precise shading techniques are employed to allow the coffee plants to thrive under cloudy, moist conditions. The harvesting timeline is carefully determined based on the first flowering of the plants, maximizing the quality of the coffee cherries.
Atypical of many Guatemalan coffees, this coffee fits beautifully into our 'Balanced & Fruity' category. The Bourbon and Typica varietals that represent the main cultivars of this harvest show through in a balanced cup with a subtle malic acidity like a Fuji apple and cherry jelly sweetness. Although this coffee represents a unique snapshot of Guatemalan coffee with its brightness and sweetness, we still get a satisfying hint of hot chocolate on the finish.