All Coffee
Premisa
Premisa is a seasonal product and currently unavailable. If you'd like to be notified when this coffee is back in stock please submit your email address below.
"*" indicates required fields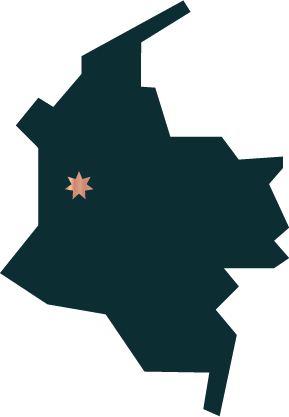 Region
Casabianca, Tolima
Altitude
1790 - 2050 MASL
Variety
Tabi, Bourbon & Gesha
We've known Herbert Peñaloza Correa since the very beginning of our coffee journey. As the founder of 575 Café and one of the pillars of La REB, Herbert's roots run deep through coffee cultivation in central Colombia. About 5 years ago, Herbert was able to purchase the first farm in which he had free reign and complete control over the coffee cultivation process, from start to finish. 'El Bocadillo', as the farm is called, represents a return to the roots of coffee cultivation.
Located in rural northern Tolima, Herbert and his team approached every aspect of the new farm with deep intention, a desire to simplify, and one overriding goal: to let the coffee speak for itself. The team spent a great deal of time and energy understanding the terrain, the climate, and the natural flora of the area, building the farm specifically to focus on growing coffee cleanly, simply and in ways that bring out the best in each cultivar.
Originally released as part of our 3-coffee El Bocadillo Microlot Set, we're excited to release our second coffee, Premisa, as an individual single origin. A fully washed coffee, Premisa represents a 'baseline' for this first harvest. After developing a baseline for a coffee, fermentation profiles and other processing methods are incorporated to further develop coffee and flavors. The washed processing method give this coffee a clean, bright, and juicy flavor profile.
We are thrilled and honored to partner with 575 Café to bring the first ever harvest from El Bocadillo to the world. As Herbert puts it, "Whenever you have a new farm, especially when conditions are atypical like the ones we have at El Bocadillo, it is imperative to get to know the coffees first. Hence, this is not a single-varietal release, but an exploration of the potential of a farm. Of course, everything is processed in a way that will enhance the flavor of the coffees, which is also necessary for introducing the farm to the world in the best possible way."